7 Tips to Elevate Your Instagram Game And Growing Your Following
So you have an Instagram but following, but you're not sure how to grow it. Do more Instagram Live sessions? Comment on other people's posts? Buy followers? Yes, yes, heck no.
We've put together 7 actionable tips to help you boost your Instagram game to baller status so you can grow your following without resorting to cheap tactics and bots. This advice is for people, solopreneurs and huge, established brands. And it's all based on some insight from the Marketing king himself Mr. Seth Godin who literally wrote the book on online communities.
Nike did not invent the running tribe. There were already runners before Nike showed up. What we do when we lead a tribe often is we find people who are already connected and we merely show up to lead them.
For most businesses, we don't even lead them. We merely service a tribe that already exists so that when you find a group of people who share an instinct, an interest, a connection, a leader, a goal, you give that group of people something with which they can take action.
The way I abbreviate that long sentence is "people like us do things like this."
To succeed on Instagram, you have to tap into that community and give them some leadership. Here's how:
1. Be Present By Posting Every Day
Consistently post. It's the most basic part of the recipe. It's so basic you want to skip over this tip and get to the good stuff but i'm telling you: this IS the good stuff. Watch what happens if you post everyday.
According to research by Tailwind, you should post every day.
But of course, it's not as easy as posting every day. Are your posts gaining followers? Are they–at the very least–maintaining the followers you already have? Posting too much content that's boring, irrelevant, off-brand, unattractive–bye-bye followers!
Which brings us to tip #2….
2. Show your personality!
Social media loves a good personality, and the only thing better than a person with personality is a brand with personality. (Don't believe us? Check out Wendy's.)
But what does personality look like on Instagram?
@MrOrlandoSoria is an interior designer who only occasionally talks about interior design.
He has a cult following because he's hilarious! If you've ever seen anyone use a pretend microphone and the words "reporting live using a spatula [or other object] as a microphone," they got it from Orlando.
His interior design work is top-notch but it's truly the least interesting part of his Instagram presence. If this picture wasn't enough of a taste, check out his "murder" highlight. He also has a running joke about how he's a grown human man living inside your phone. He yells at dogs, "excuse me, dog-ma'am!" And every person and entity in his life has its own hashtag: orMOMdo, orlanDAD, #chateualando, just to name a few.
Tip: Just have fun! If you've had your head underwater in analytics and strategy, come for air and just have fun for a while.
@AdamSCarpenter's claim to fame is zany dance videos but now he does all sorts of shenanigans. Come to think of it, his might be the single weirdest profile I've ever followed but me and 50,000 followers can't be wrong! (…Right?)
As instagram has evolved, so as Carpenter's style. Now his stories are much less dance-centric and more about silliness with his brother (?) and friends. He tells really dumb jokes, plugs his podcast, and continues to be a complete goof in public.
Tip: Carpenter has always approached his feed with incredible creativity. Think outside the box. Enjoy yourself. And get your friends involved. Followers love watching friends have fun.
3. Avoid Bland–Shake Things Up!
There are only so many beautifully-styled living rooms and plates of food, selfies, travel photos, and romantic sunset shots you can post before your followers just get bored. Real life has drama. It has ups and downs. It has bad and good. It has beautiful and boring. Shake things up!
This works even if your brand is hyper focused in one specific area.
@AlmedaPottery is Jon Almeda's Instagram account that features nothing but miniature pottery. LIterally, the only thing on his page is miniature pottery, but you can't look away.
Every photo is different. The colors, settings, backgrounds all change (but remain complementary). He makes movies of his work and demonstrates creative, fascinating uses for his tiny vases.
He is consistent with his pottery, but he varies his photography styles and backgrounds to show off the unique features of the pieces, and to engage his followers who are forced to ask yet again, What will he do next?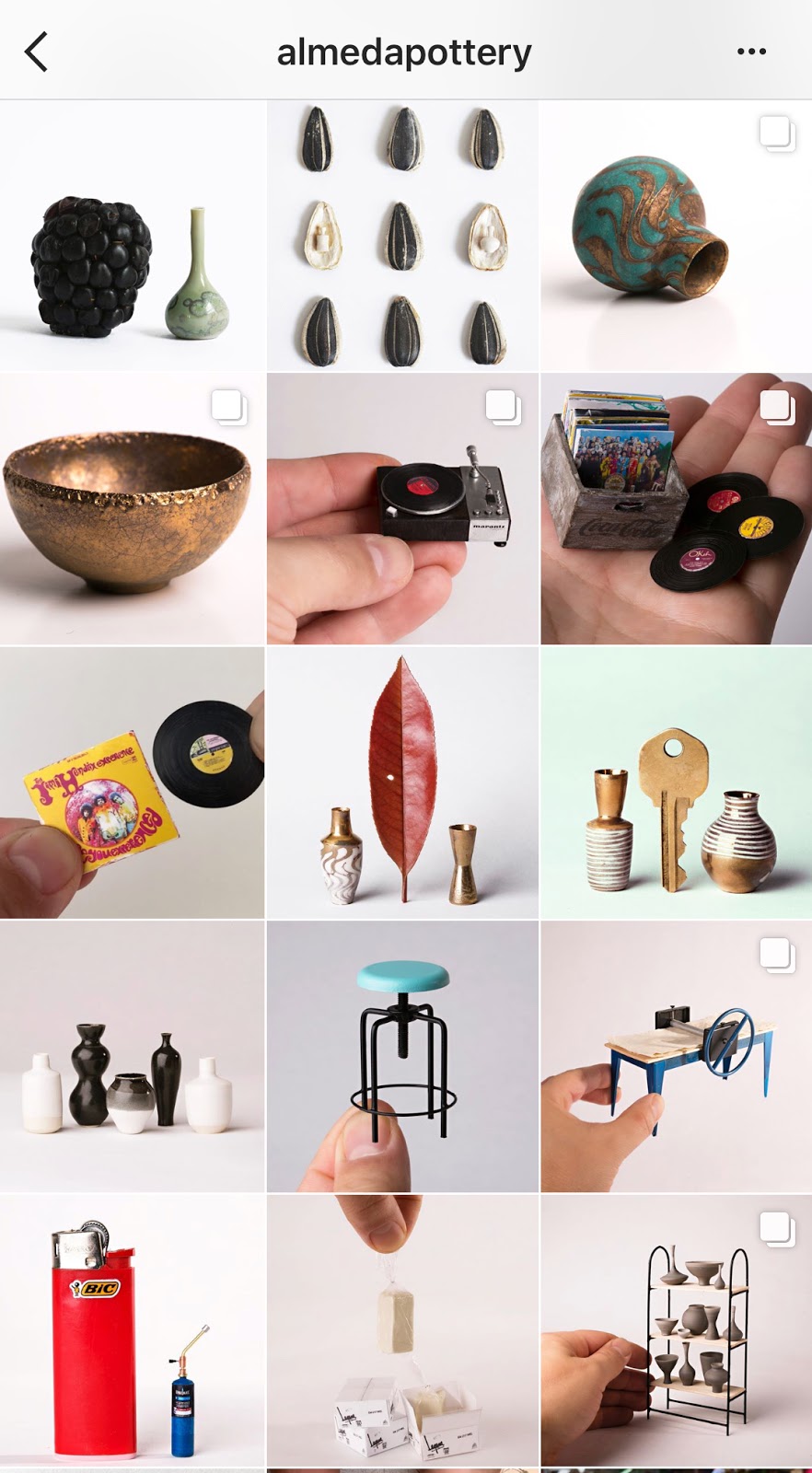 Tip: If you have a limited scope, that's okay! Find creative ways to showcase it, to highlights its unique features and strengths.
You can see from fashion blogger @LeanneBarlow's Instagram page that she's a pretty classic fashion blogger. Everything (everyone) is gorgeously styled, beautiful, colorful, happy, bright. Like many fashion bloggers, she'd also post about food, family, exercise and travel. But, everyone gets bored, even of beautiful people.
A mostly self-taught seamstress, Barlow put her sewing skills to work creating fashion and, in October, she launched a project unlike every other fashion blogger: #TheMonthlyDressSeries. Each month she chooses a theme related to the month (often a holiday within the month) and designs, sews and models a gown of her own imagination.
She's gained thousands of new followers since the launch but, more importantly, she's gained a much more engaged community. Everyone wants to know what the dress is going to look like! What will Leanne think of this month? We all wonder.
She didn't just vary up topics. She differentiated herself from the entire category, started new brand collaborations, reached more people, and has a project that both she and her community are crazy about.
That's the power of variety.
Tip: Throw rules out the window. Try something that's never been done before, something you can't wait to share with the world.
4. Be a Platform for Others
If you follow beauty at all, then you are already familiar with the Kim Kardashian of the beauty influencer economy @Hudabeauty. Based out of Dubai, she started her empire as a humble blog that has grown into millions of followers (25.3M as of this writing), her own line of makeup and beauty products, and global influence.
Integral to her strategy–which includes frequent postings, an almost unceasing Instagram story (instead of several stories, it's more like an uninterrupted movie of her life), and lots of video tutorials–is her brand as a platform. From the beginning, @Hudabeauty was about sharing the work of other people, artists, influencers, YouTubers, and followers in her her community.
It seems counterintuitive that putting others' work front and center would win you followers. But when you're where people want to be, you get tons of followers and engagement, as well as loyalty and appreciation. You're bringing together people with a shared interest, giving them tools and inspiration, and possibly an enormous boost in their own following. That's power. That's influence.
Tip: Not sure what to offer? Try being a platform for others. It can be people you want to be like, people you admire, or a platform for a community that doesn't exist that you would like to create. Start giving people a space to express themselves to the world!
5. Create a Hashtag
You already know that to succeed on Instagram, you have to get good at the hashtag game. But if you want baller status: create your own hashtag.
Ali Cerda is the entrepreneur behind @inspiralized, which is the Instagram community behind her veggie spiralizer the inspiralizer. She's a food, health and wealthness influencer who also posts about motherhood, fashion and family (vary it up!).
She encourages her followers to use #inspiralized (with almost 35,000 posts!) when they create her recipes. It's valuable data for her, and it makes it easy to engaged with her followers. She leaves encouraging comments on posts, and is there anything more thrilling than getting a comment from an Instagram influencer?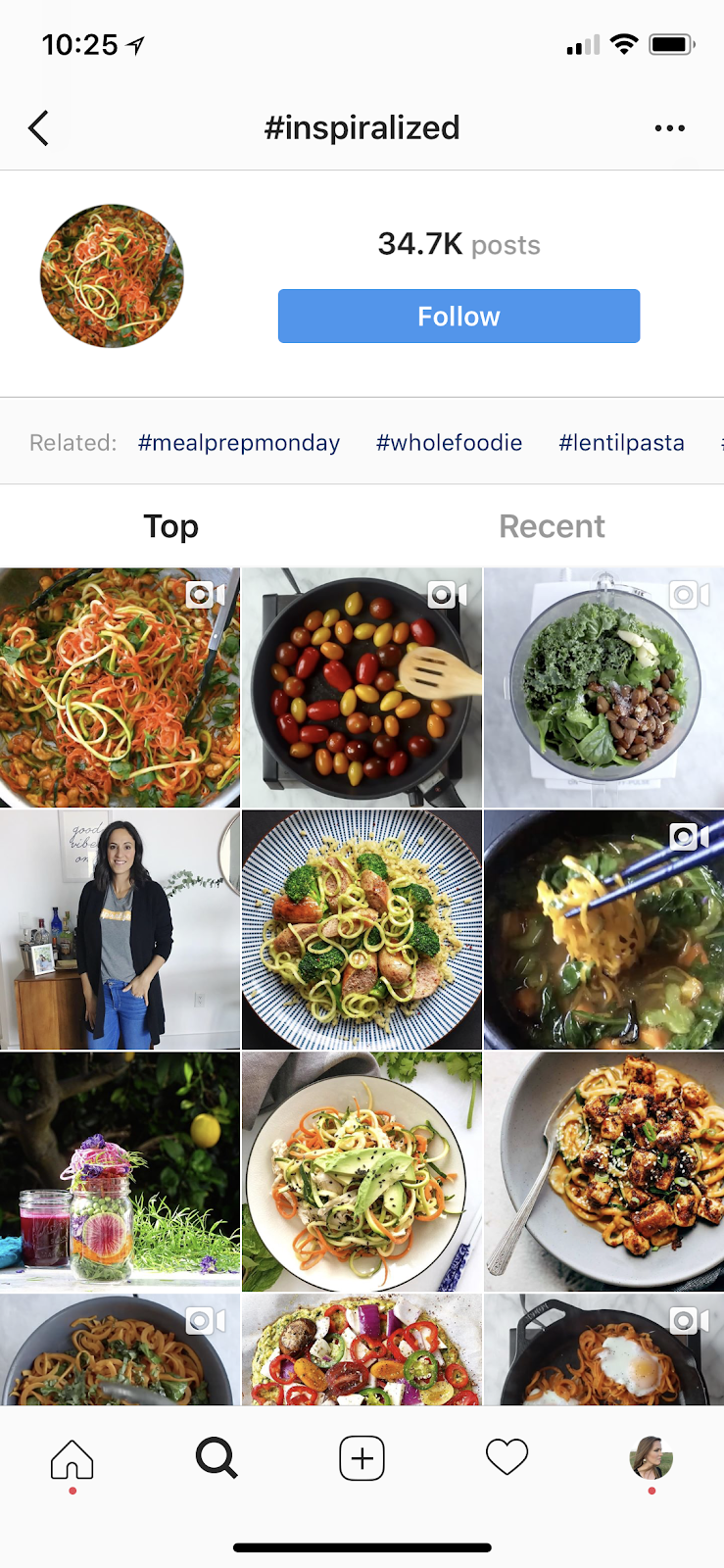 Community-building is not easy but a hashtag is a quick way to increase interaction and engagement. It's a way to see what is resonating most with your audience, too. And, perhaps most importantly of all, it fosters identity, connection to something bigger.
Tip: Create a hasthag around something your community loves, something related to one of your skills/the brand's features.
6. Create a Community
Ralphie Jacobs @SimplyOnPurpose is an Instagram influencer unlike almost any other. She doesn't have a company. She isn't out to make money or grow a blog audience (though, fueled by demand from her Instagram community, she has begun doing in-person workshops).
She is a mother of 4 who felt compelled to share her positive parenting strategies with a wider audience, so she converted her personal page into a business page and got to work spreading her message. That's it—her work is to help parents. In the year or so since she's started, she's grown from hundreds of followers to over 35 thousand.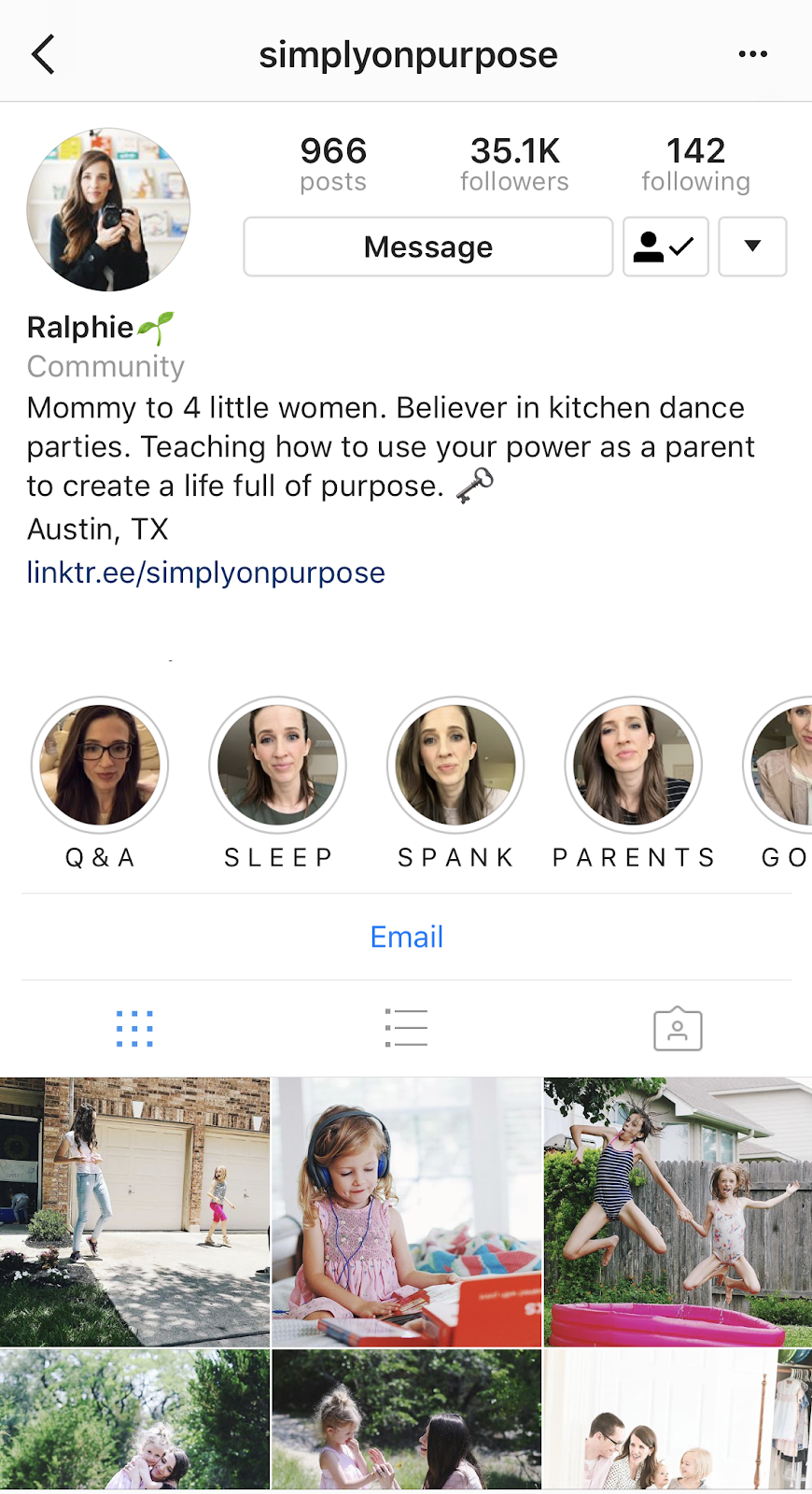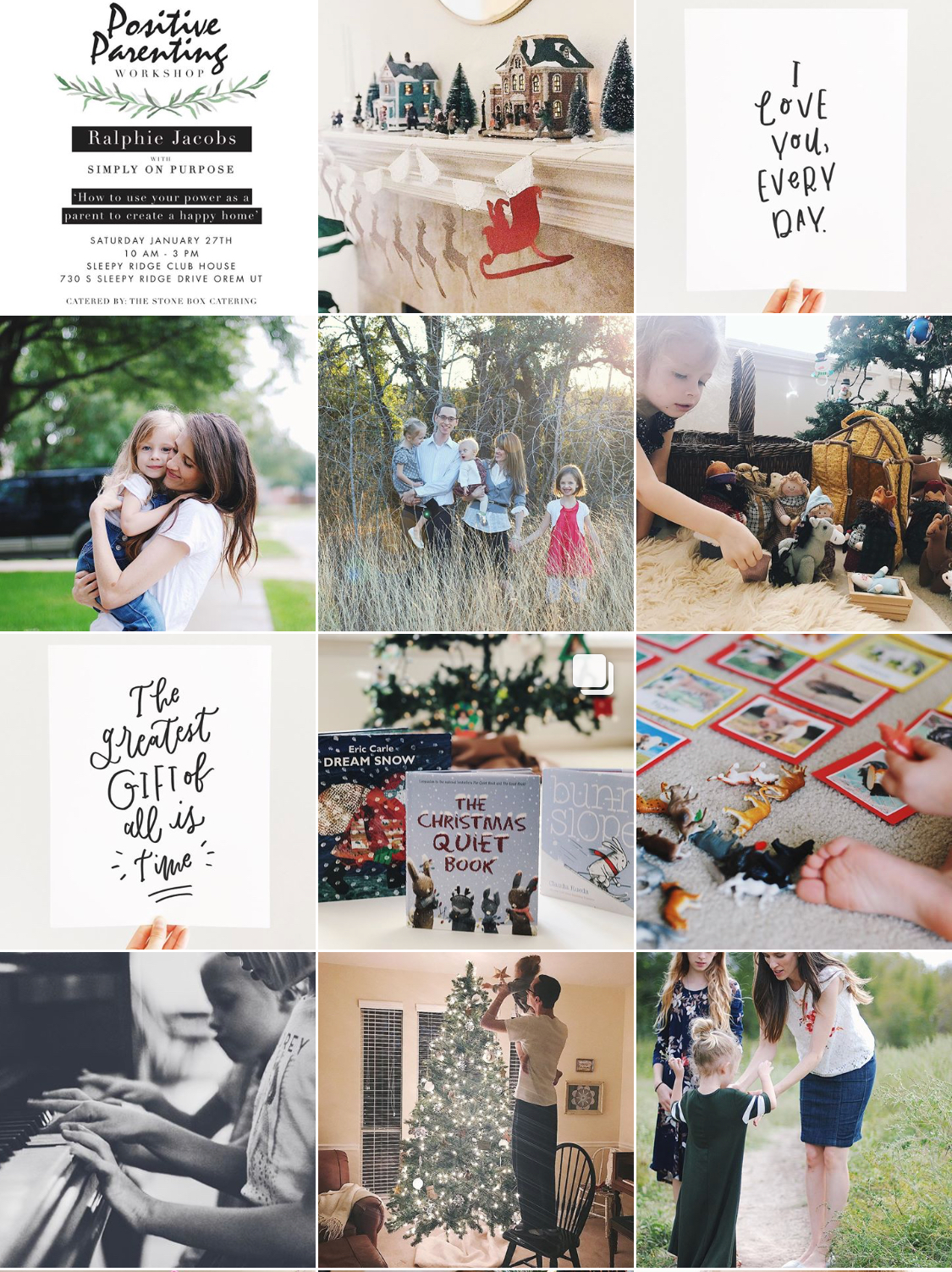 Through Instagram stories, she has taught her community strategies for raising well-behaved, thoughtful kids; hosted Q&A sessions; and helped parents everywhere to manage their families and find the joy in parenthood.
Occasionally she issues a challenge to her community, like the No Yell Challenge where she encouraged parents to go a whole week without yelling at their kids. She posted encouraging stories throughout to provide support to parents and answer questions.
Her most popular by far, however, has been #IAmThisKindOfMom which encourages moms to post their strengths as a mother.
There's very little parenting advice on social media that avoids judginess, but she has shown us that it is possible–and highly in demand. Through actionable advice, direct responses to community questions, and behind-the-scenes glimpses into her own family dynamics and struggles, she has made a safe community for frustrated moms to talk about their challenges and to overcome them.
Creating a community requires you to tap into what's already there and connect them to something larger. Instagram makes it easy to reach people, and hashtags with purpose give them something to identify with.
Consistent, quality engagement with your community foster strong connection with and among your followers, and is crucial to brand growth.
As Seth Godin said, We want to be respected by those we aspire to connect with, we want to know what we ought to do to be part of that circle.
Hashtags, Q&A's, live video, responding to comments, doing challenges, encouraging your following to use their hashtag—it all brings your circle closer together. It connects your followers with you and with each other.
Tip: Give your followers a challenge. Promote it on your stories and in your post, and use a unique hashtag. Participate by checking in every day to share your progress and challenges, and to answer questions.
7. Follow the Cats
There's a reason cat accounts are an easy 6-figure following: cat people know what's up! It sounds like I'm joking but, truly, @catsofworld and @fosterkittendiary are masterclasses in Instagram strategy. They have interesting, funny, heartwarming, cute (!) content that's highly variable but consistently worth watching–and sharing! They post every single day and engage with followers.
Their strategies are completely different. @catsofworld is a platform for cat videos. We never meet the person running the account and there's no associated brand or business (that we know of….). Instead of just one aesthetic or kind of cat video, it covers a whole range.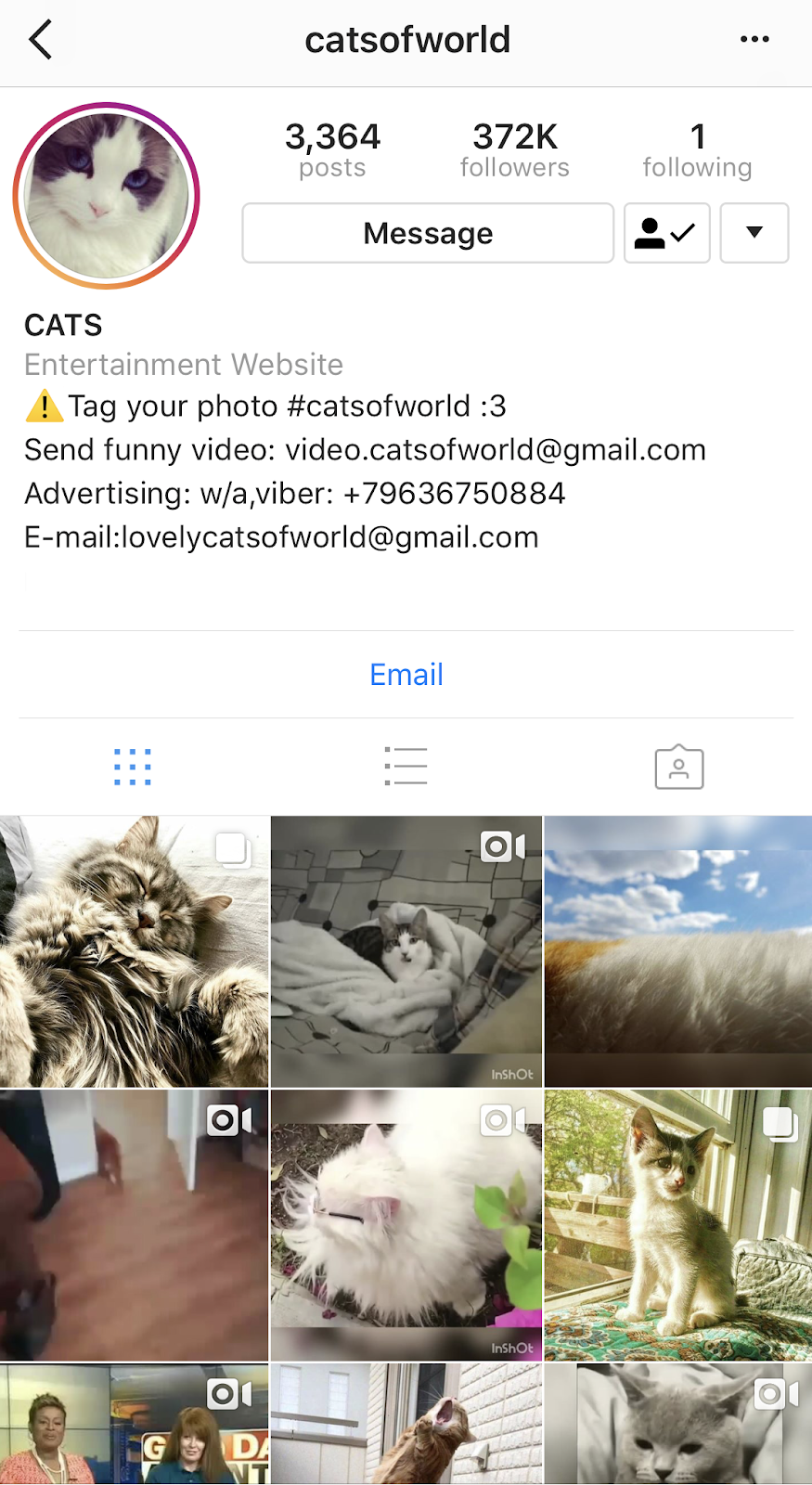 @fosterkittendiary's Barbra Sundquist absolutely is. Her followers love her for her kind, gentle nature, her willingness to answer cat-related questions, and her insistence on writing thank yous to all who send goodies to her foster cats.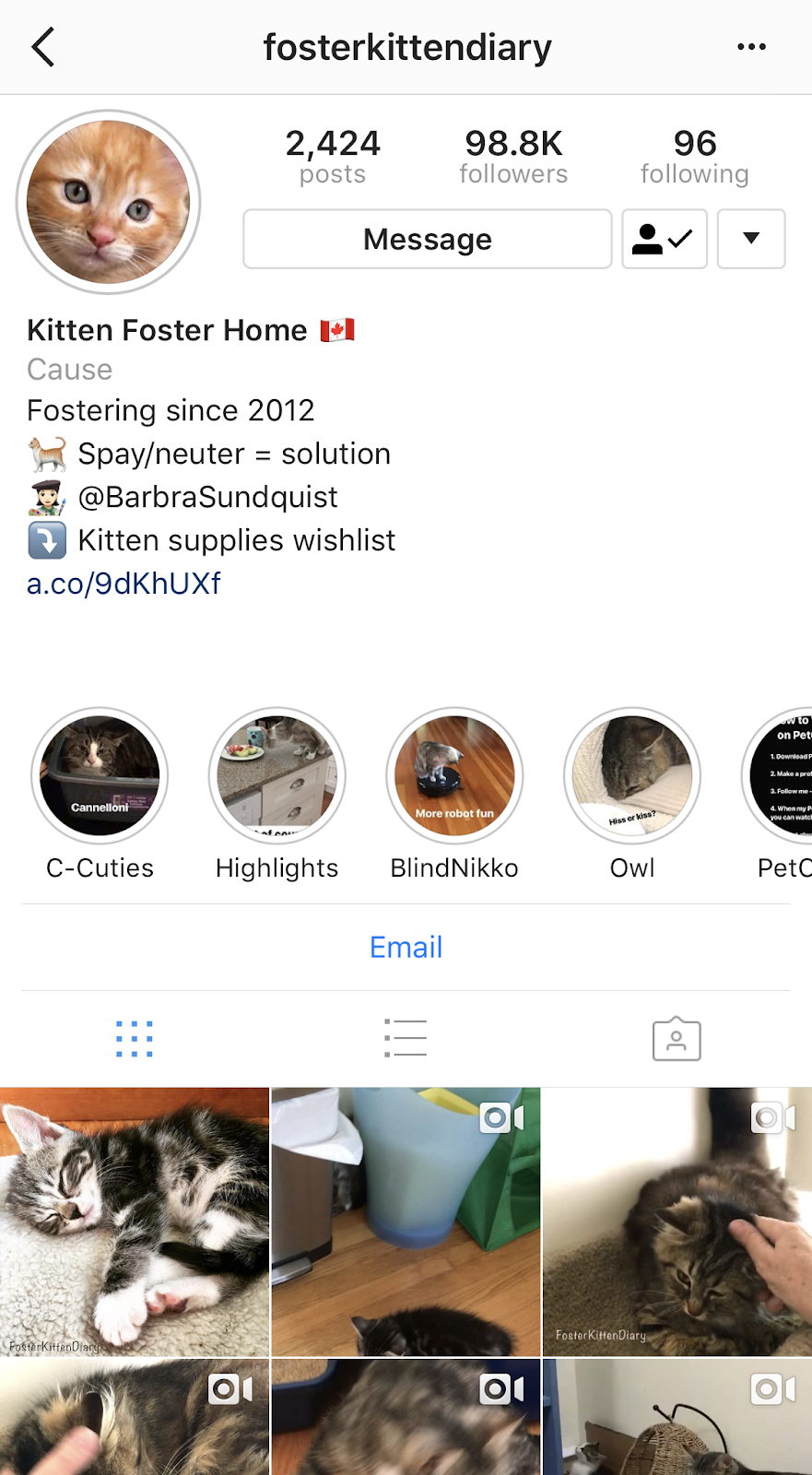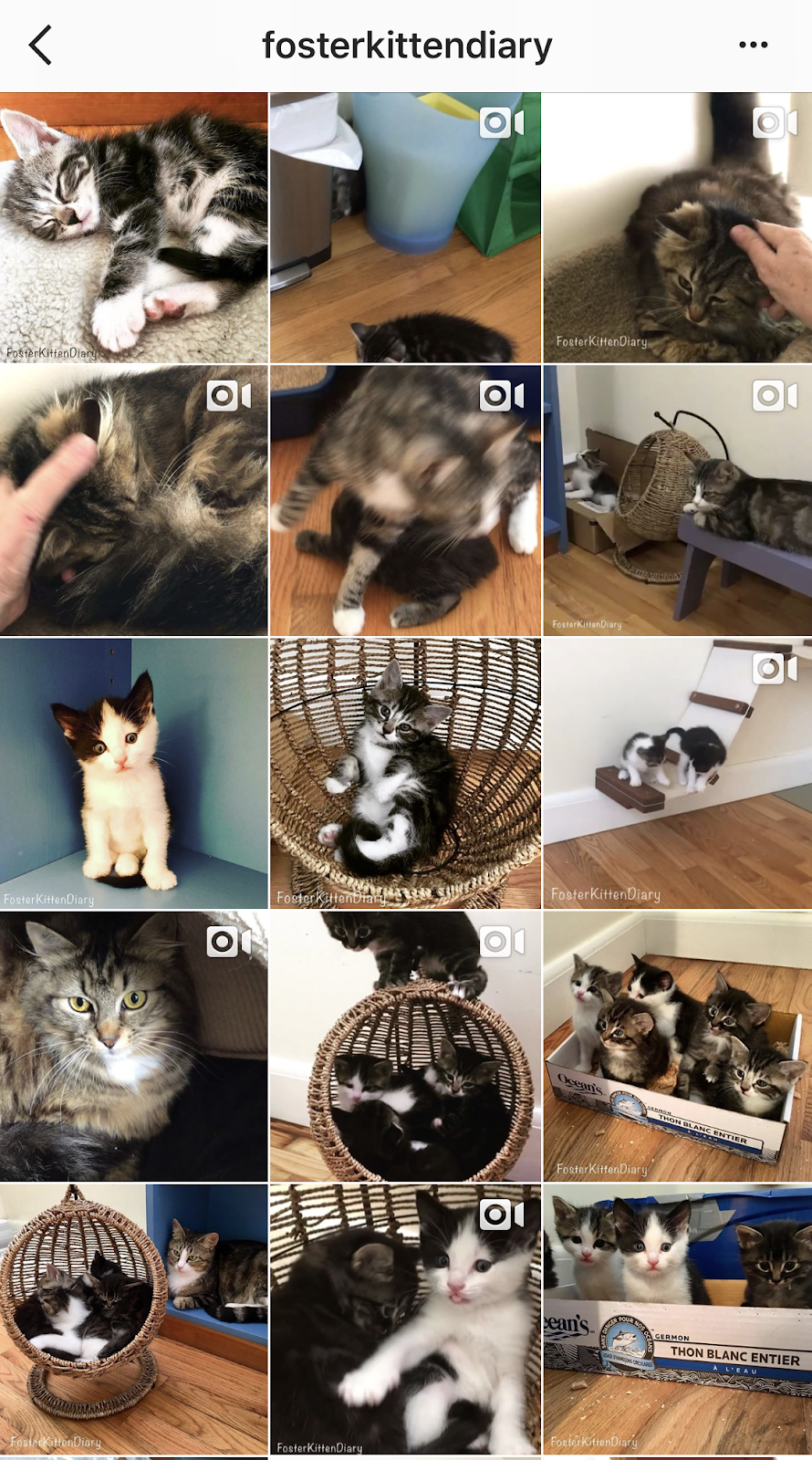 Sometimes we see instagrammers and think, But I'm so different and I could never do that. Watching animal accounts on Instagram is a good way to see past the strategists and straight into the content strategy itself.
Tip: Follow for two weeks. Study then. How many strategies is each account using? What makes their content so shareable? How does each cultivate community?
At the end of two weeks, use your notes to up your own Instagram game.
Your Turn
You already have a a community. Do they know it?
Take ideas from what these influencers have done and give your community some pride. They'll bring their firends and before you know it, you'll be breakign 7 figures.
Looking for More?
We found some handy guides to help you learn eve more!